The world's top athletes have always been known to rake in a handsome salary. Whether you're a boxer, a footballer, a tennis player or a golfer – there is money to be made for those at the top of their game.
That being said, with great money comes great temptation (paraphrasing from Spiderman) and sometimes, the more you've got, the more you have to lose, as these particular athletes will tell you.
Here is Spend It Like Beckham's Top 10 Athletes Who Went Broke!
Michael Vick
One of the best quarterbacks of his time, Michael Vick commanded a high salary. He was playing at the top of his game, and taking home a pay cheque too big for his pocket – life was good for Vick. Well, it was good until he decided to take the strange decision of starting a dog fighting syndicate! In 2007, an illegal dog fighting ring was unearthed at one of Vick's homes and he was later charge with the felony of operating such a heinous…thing! This was just the start of his troubles, as he later went bankrupt, with a lot of help from lawsuits, bad investments and generally bad financial management. At one point, his debt was estimated to be near the $50million mark!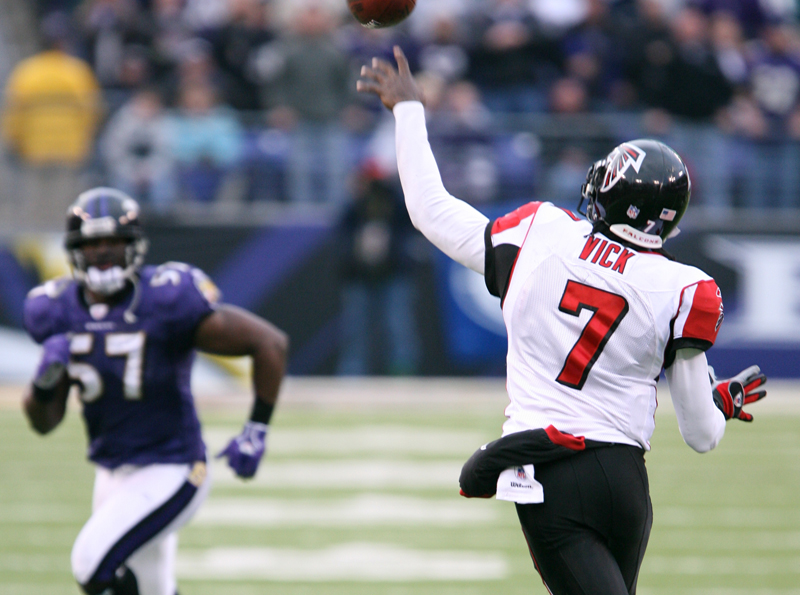 You can't see it, but there is actually a dog running away from him here
Evander Holyfield
The man who famously had part of his ear bitten off by Mike Tyson is another sporting giant who managed to squander his vast fortune. It is hard to understand how a man who raked in an estimated £350million form his 28 year boxing career managed to run up debts as high as £10million, but he did. Gambling, lawsuits, bad investments and a reported child support bill of £500k to his 11 children, that's right, 11, have been part of the reason that The Real Deal has had to sell off virtually his entire life in order to keep up with his crippling debt.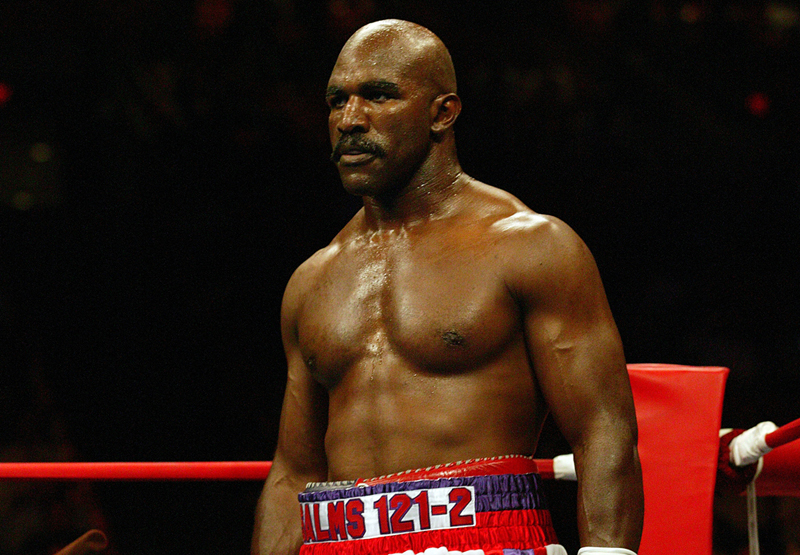 "$350m. Where did it go? I sure as hell didn't spend it in the barbers!"
Bjorn Borg
11 Grand Slams total. 6 French Opens and 5 consecutive Wimbledon victories, Bjorn Borg is unarguably one of the greatest tennis players of all time. Pity he didn't love his money as much as he did tennis (bad tennis pun.) Despite raking in over $3.5million in prize money and an unknown, but most likely lucrative amount from sponsorships, endorsements and image rights, Borg still managed to end up in the red. Some would say that it was his failed clothing line that caused it, others would mention his rather serious drug addiction – either way, he wasn't good with money. Although, he's back on his feet now, drug free and has a successful clothing line, so, well done on that Bjorn.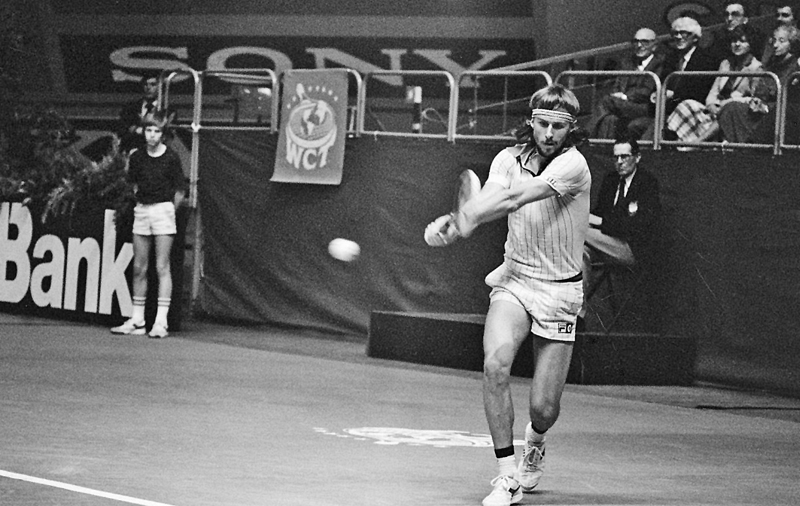 The only man to recover from a failed fashion line by starting another fashion line
Scott Harrison
Ahh, a fellow Scot. Someone that we were once proud of, but no longer! The former featherweight champion of the world had always left a trail of trouble, whatever he was up to. Various arrests in the UK led to various arrests abroad – and he ended up carrying out a jail sentence in Spain for assault.  This is of course on top of his widely covered drug abuse problems. It's actually no surprise that he declared bankruptcy in 2007 after losing a fight against unpaid taxes.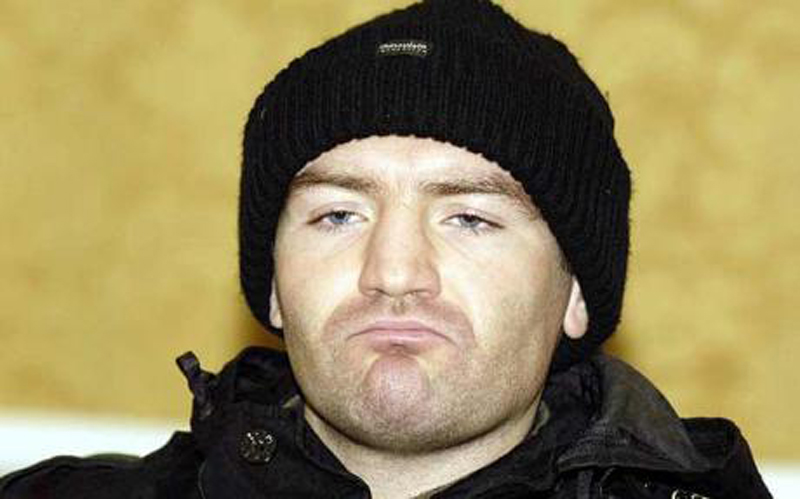 A Weegie getting into trouble? Unheard of!
John Arne Riise
Bet that is a name that you weren't expecting? The Liverpool cult figure was often an unsung hero oin Anfield, and he quite rightly took home an attractive pay cheque – reportedly around £50k per week at the time. So, it came as a bit of a surprise when he was declared bankrupt in 2007, while he was still playing for Liverpool. It was understood that he owed £100k in debts to an unknown source, while also being tied to an alleged £3million fraud in his native Norway. He seems to have got back on his feet though, and was seen playing in the Premiership just last season with Fulham.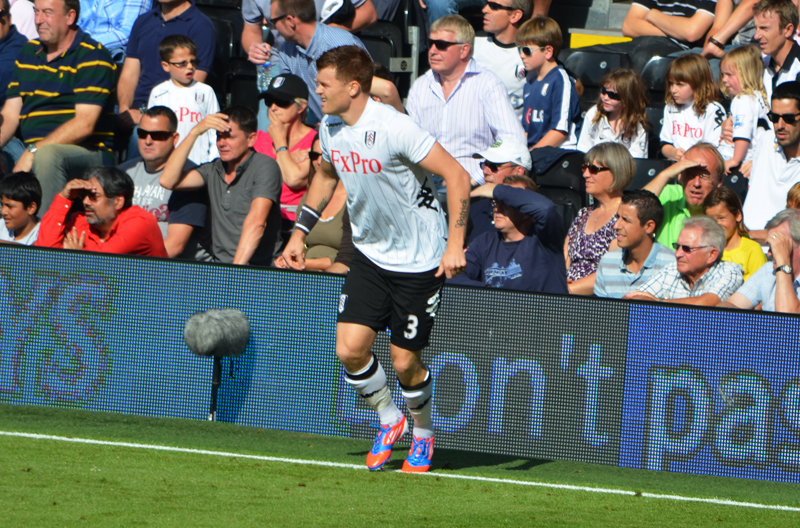 "If I stay behind this line the tax man can't get me!"
George Best
The Northern Irishman was one of the best players of his generation. He was known for his untouchable skill on the park, but was known just as well for his lavish lifestyle off of it. While is eventual decline arguably didn't start until he had left Manchester United, all the signs of someone going off the rails were there. Jail sentences, alcoholism and drug abuse would all eventually crop up in Best's life and in 1998 had to be evicted from his home, as he was £70,000 in debt. Somewhere where a player of his talent and promise should not have ended up.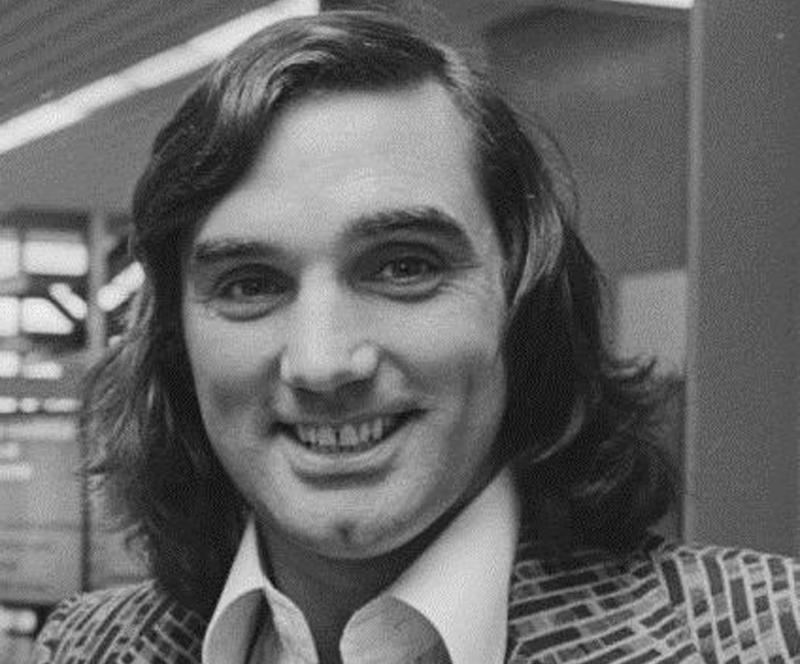 Perhaps signing for Hibs wasn't the wisest decision he ever made…
Mike Tyson
Iron Mike may be the most notable figure on our list, possibly because he was already mentioned during Evander Holyfield's section, but more likely because of the publicity that Tyson's financial downfall gained. Having reportedly earned over $300million from his boxing career, Tyson was always one for a lavish lifestyle. This lifestyle would eventually become his downfall and after a stint in jail, divorce, drugs and alcohol, Tyson is now so broke that he says he will never be able to pay off his IRS debts.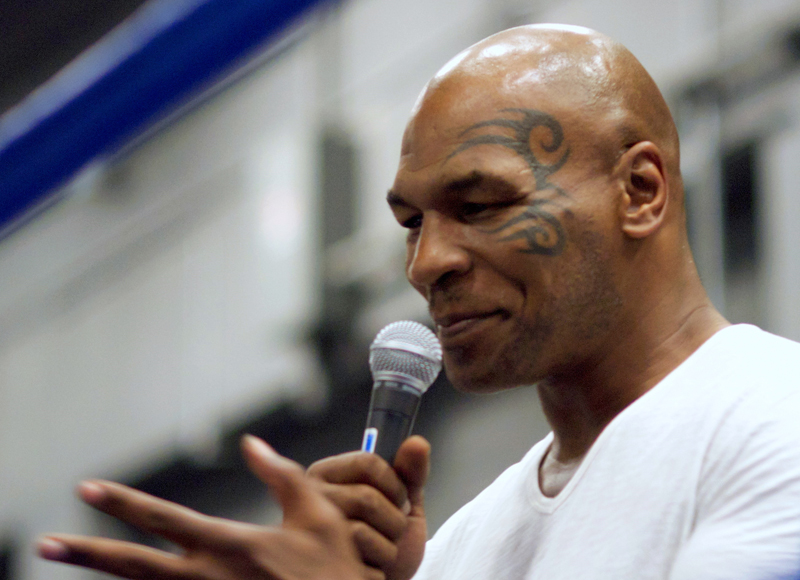 "Fancy face tattoos have been my downfall…"
Paul Gascoigne
'Gazza' is undoubtedly one of the greatest footballers of his generation where he racked up games for the likes of Newcastle, Spurs, Lazio, Rangers and of course England. However, Gazza was another athlete who's lifestyle was as big as his paycheque and it took it's toll. After a much publicised battle with the bottle, Gascogine began suffering from mental and emotional problems, as well as an unhealthy addiction to Red Bull. In 2011, he had to strike a deal with the HMRC due to an upaid £30,000 bill despite him reportedly being worth £14million at the peak of his career.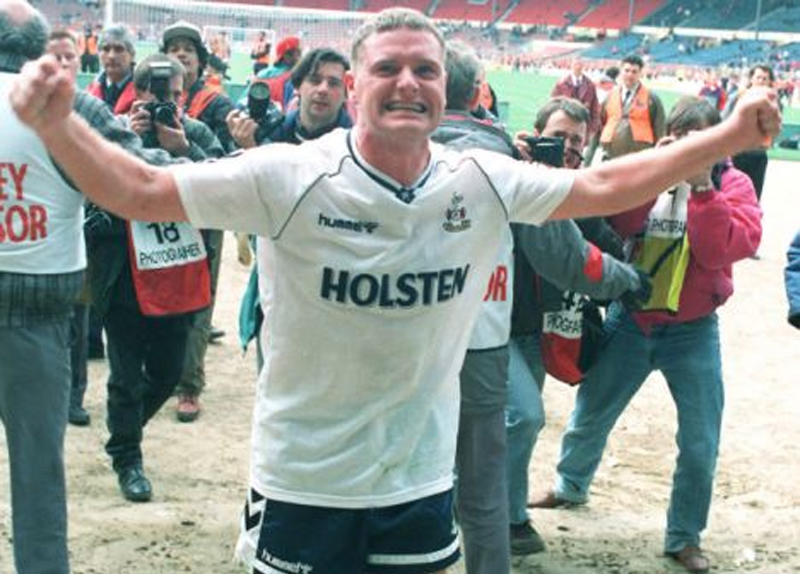 Reminiscent of Dave Kerr at any given weekend
Dennis Rodman
The 6'7″ powerhouse, nicknamed The Worm, was always at the centre of attention during his career. If it wasn't his sublime defence it was his hair, and if it wasn't his hair, it was his…let's just say extravagant lifestyle. Despite bringing home a hefty wage each week, the superstar's lifestyle eventually caught up on him. Another who has been battling alcoholism, in between trips to North Korea, The Worm is said to now owe near $800,000 in child support alone, but can't pay it off due to him being dead broke.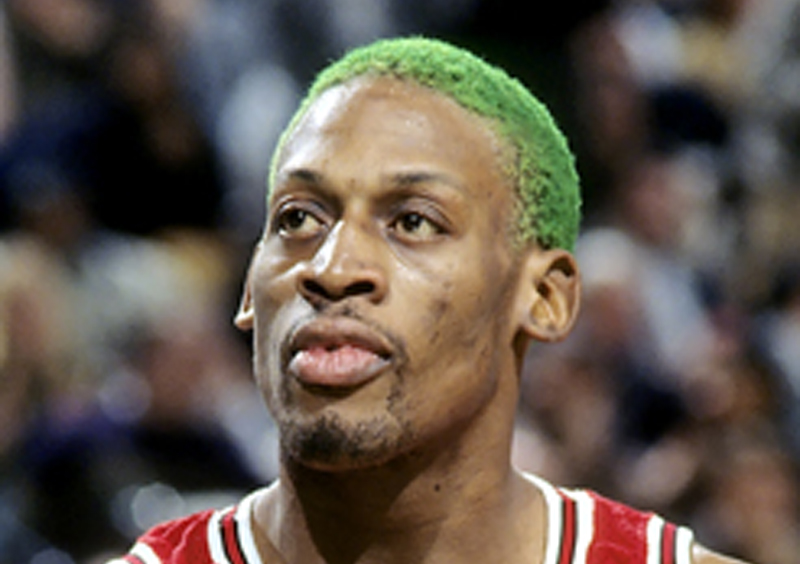 "I'll dye my hair green, because being a giant doesn't make me stand out enough!"
John Daly
'Long John' became famous not only because of his massive driving distance from tee off, but also for being a bit of  a character on and off the golf course. Whacky trousers and a mullet to accompany, he often made the headlines. However, behind the trousers and the haircut was a man who struggled with a gambling addiction. Estimated to have accumulated $50million from competition wins, sponsorships and endorsements Daly always had money, but it was his money to lose. He claims that he has lost a similar amount from gambling alone, and even resorted to selling his own memorabilia outside the Augusta golf course in a bid to stave off bankruptcy.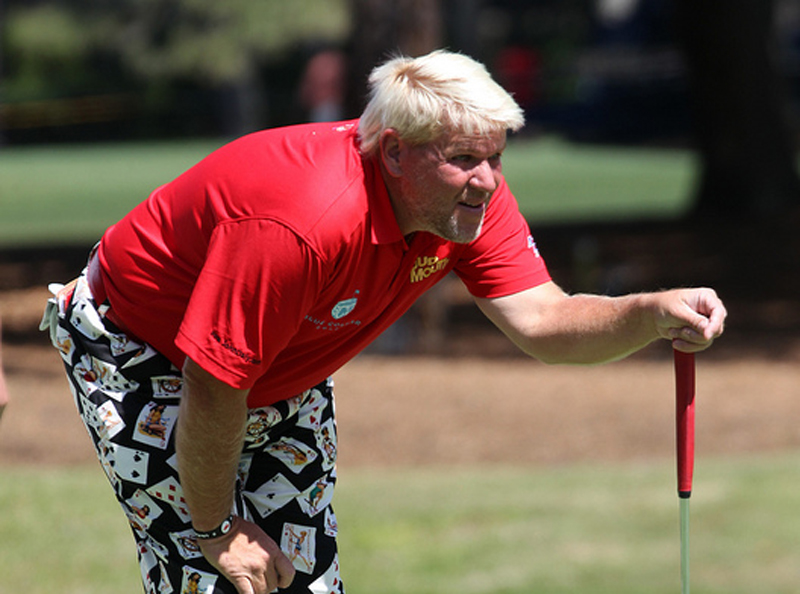 It is unknown at this point if Daly is lining up a putt, or is just tired.
Well, now you know about these particular athletes (we use the term 'athletes' lightly as John Daly is involved) who went broke; why don't you go over and check out who the Top 10 Highest Paid Athletes are? You know you want to…