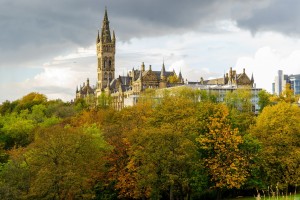 Glasgow was once known for its bad reputation due to high crime statistics, however, the city has changed a lot and is now the second friendliest city in the UK. With almost 600,000 inhabitants, Glasgow is bigger than Scotland's capital, Edinburgh.
Although it doesn't have a castle in the middle of the centre, it still has a lot to see. Let's spot the best activities you can do in Glasgow.
1. Kelvingrove Art Gallery And Museum
This beautiful building is worth to look at, even if you don't have the time to go inside. The museum that was built in the Spanish Baroque style is one of Scotland's most popular attractions. The good news is: when you want to see the exhibitions, you don't have to pay an entrance fee since all museums are for free in Scotland. There are donation boxes at both entrances if you want to make a contribution but this is not mandatory!
2. Sub Crawl
Can't decide on the pub you want to go? Then a sub crawl might be the right choice for you. Hop on the world's third-oldest subway and stop at every station for a pint. You will need some energy and a good stomach to get to every stop on the circle-shaped line, but you will see a lot of the city and eventually meet some locals.
3. Go On Top Of The Lighthouse
If you want to get a beautiful view from the top of Glasgow, then you should go to the lighthouse. It's a bit hidden in the city centre, so you will need to look out for Mitchell Lane on Buchanan Street. Next to the view, it also offers different exhibitions on architecture that are worth the visit.
4. Ashton Lane
Another hidden street that you shouldn't miss is Ashton Lane. This backstreet is located right in the West End close to the Hillhead subway station. If you plan a visit, then you should go at night when the light chains are turned on. It's a beautiful lane with lots of restaurants, beer gardens and bars which turn into a hotspot at night.
5. Have A Tea At Tchai Ovna
The exotic-looking interior might not look like a traditional place for a British afternoon tea, but Tchai Ovna is probably the best place for it in Glasgow. With 100 sorts of teas from all around the world, you will find it hard to choose.
6. Necropolis
It might sound a bit unusual to claim a city's graveyard as a place you should go, but the Necropolis in Glasgow gives you a nice view over the cathedral and has graves that are unique pieces of architecture. It's now also the set for the new Batman movie.
7. University Of Glasgow
It's one of the world's oldest universities and certainly a sight that is always nice for a walk. The buildings will remind you of the Harry Potter movies, although none of the scenes have been shot there.
8. The Hunterian
Right next to the main building of the University of Glasgow is the Hunterian Museum. It's covering different sorts of areas, such as an art gallery but also a zoology section, and the Mackintosh House which displays pieces of the famous architect.
9. Botanic Gardens
Even when the weather is not the best, the Botanic gardens are still an activity you could do since you will be dry once you are in the glasshouses. The palaces are more than 200 years old and have a variety of plant collections that have a great smell and are fantastic for pictures.
10. Walk Through Pollok Park
Only a ten minutes ride with the train, and you will be seeing lots of Highland Cows. Especially if you have never met one before, then Pollok Park is probably the closest place to Glasgow where you can go. Right there, you will also find the beautiful Pollok House and its gardens. During the day, you can take a walk through the house and take a look at its Spanish art collection.
Although Glasgow can sometimes be in the shadow of Edinburgh, it has its own charm and architecture. The ten activities mentioned above are just a small overview of all the things you need to do in Glasgow. It's certainly a city you shouldn't miss when you are in Scotland.