Wanting to start a streetwear brand? Well, it has never been easier. Easy access to design software, quick turnaround times at printers, relatively low overheads and the ability to sell easily online have all contributed to a boom in new fashion brands popping up all over the country. However, this also means that it has become quite a saturated market and as a result it is increasingly difficult to stand out from your competitors. I have outlined a guide below to help you with developing your own brand from the initial idea right through to the final product launch. From my time working at Urban Industry, the UK's largest independent streetwear store, to the launch of my own t-shirt line, Heft, back in 2012, I have experienced life on both sides of the fence so to speak. I'm by no means an expert, but I thought I'd share some of my insights with you.
Research
Before you even put pen to paper, I would advise you to take a step back and seriously consider what it is you want to achieve with your new brand. Have you identified a particular niche in the market that you think you can fill? Or do you want to cash in on a particular trend that's popular at the moment? I would seriously look at the brands you plan to compete with and ask yourself – "do I have something new or original to add"? If you think you have identified your niche, then I would look at similar brands and how they operate. What's their pricing structure like? Where are they positioned in the market? What does their customer base look like? What can I do better?
Preparation
So now that you've decided what direction you want to go in, it's time to get down to the tangible things that will define your brand. You'll want to think of a brand name that resonates on both a personal level and that also carries a story people can relate to. Ok, so not all of us can be like Shawn Stussy of Stussy, Keith Hufnagel of HUF, or Benny Gold whose names are synonymous within the streetwear industry, but serious consideration must be given to your brand's name. Once you've finally settled on this important fact, it's time to start acquiring website hosting, social media accounts and online ecommerce solutions such as Big Cartel, Shopify etc. I recommend using a free online product such as Big Cartel to start with as it is relatively simple to use and can take PayPal payments from customers easily. There's also huge scope for customising your store front thanks to the multitude of different designs and themes available online.
Design
Now comes what is both the most fun and potentially the most trying part of the whole process: designing. You'll want to start thinking about what your first release will encompass. Launching a brand off of just one t-shirt isn't a great idea. Neither is coming straight out with a whole collection ranging from cut & sew, to outerwear and accessories. Look at what is achievable within your budget. Bobby Hundreds (who has a much better insight into this kind of thing than I do), maintains that the foundation of any successful brand lies with their graphic t-shirt output. I tend to agree with him. T-Shirt printing is relatively cheap and infinitely doable in the UK and Ireland thanks to printers such as Awesome Merchandise and KillerTees.ie. When it comes to graphic tees I have one strict piece of advice – if you can't design then don't. There are countless talented illustrators and designers out there that can help you in that department. By no means does this mean that you have to compromise or dilute your original vision. It just means the whole process just became a lot more collaborative. Take to Twitter and Instagram and follow the various creative folk you admire. Don't be shy in reaching out and contacting those who work you like.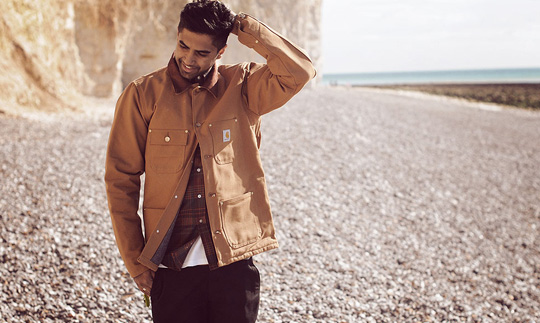 Contacts
As much as you'll want your new brand to stand on its own two feet, you'll also want to enlist the help of others to help with promotion. Try and keep these relationships organic. Don't be the guy that buys his Instagram followers or spams fashion sites with news of their as-yet unreleased brand. Look to connect with likeminded individuals (writers, photographers, graphic designers, fellow brand owners) both through social media and through attending various events organised by brands and local stores. Streetwear in the UK is still a relatively small industry so the contacts you make will prove invaluable. I wouldn't bother contacting stores as potential stockists at this point as a) they're constantly inundated with new brands both big and small contacting them and b) you don't want to be presenting a half-finished range to key retailers. Keep your focus on the organic growth of your brand at the moment and only worry about the key stores when they're banging on your door looking for those big orders!
Production
Ok, so you have your range planned and your designs locked down. Now it's time to focus on production. If you've gone down the t-shirt route I recommended, then sourcing a local printer should be simple. Pay attention to the details though – do you want basic Fruit of the Loom or Gildan blank t-shirts or do you opt for something pricier? Will your printer detag and bag each individual t-shirt as part of the price? Make sure you get some samples of their previous work to compare.
You may want to look further afield and enlist the likes of AliBaba in sourcing production. A word of warning here though that minimum quantities, shipping and import charges will all have to be taken into account. Whichever route you decide to go down, quality control and attention to detail are paramount. Make sure you check and double check everything that comes back before signing off on it.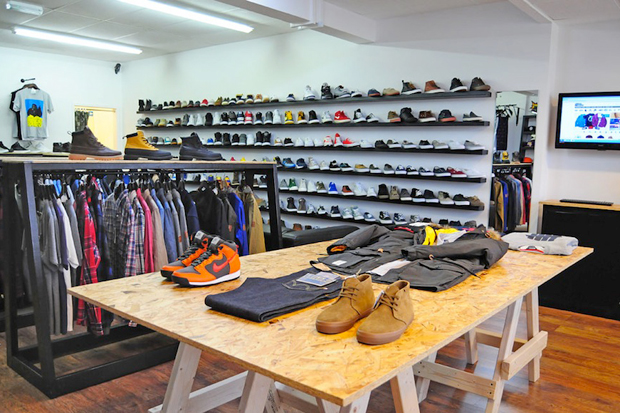 Launch
Now you get to enjoy the fruits of your labour as you get ready to launch your new brand. Make sure you've got all your affairs in order (online store stocked, PayPal account in order etc.) as well as stocking up on packaging and postal supplies. Small touches you may want to include such as handwritten thank you notes definitely go a long way too. Make sure you're active on all chosen forms of social media but don't overload and spam people. Don't panic and slash prices if your products don't shift as quickly as you'd hope. Likewise don't launch with a discount code and devalue your brand straight out off the bat. Be patient and stay positive. Your brand is the result of your hard work and determination. Where others have talked about doing it, you've actually gone out and done it yourself!
Images by Sean Hammett if Urbanindustry.co.uk