Who is the absolute worst athlete turned actor?
What's tougher, winning a gold medal or crying on queue? Well that's up for debate, but there have been plenty of star athletes who have attempted both.
Some have succeeded admirably. However, we won't waste our time discussing them. Instead we will take a look at the spectacular failures who sacrificed their time, and dignity, to fill our bargain bins with some of the best 'guilty pleasure' box office disasters since Waterworld.
Witling the number of athletes turned bad actors down to just 5 was a tough challenge. But I have never been one to shy away from a challenge. 'Challenge' is my middle name after all.
Don't…
Don't research that.
Number 5: Michael Jordan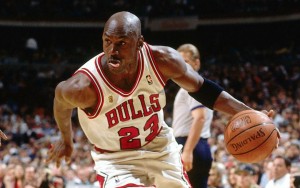 The NBA website proudly proclaims that "Michael Jordan is the greatest basketball player of all time", and looking at his career accomplishments it's hard to argue with them:
6 NBA Championships
5 MVP Awards
10 Scoring Titles
NBA records:

Highest scoring average (30.12 points per game)
Highest career playoff scoring average (33.45 points)

ESPN's Greatest North American Athlete of the 20th Century
2 Olympic Gold Medals
Perhaps his greatest accomplishment is the fact that Jordan only achieved half of these awards and titles before he retired. After winning three titles with the Chicago Bulls, Jordan retired for a couple of years before returning to do the same all over again. There are very few people who can take a 2 year break and then return to being the best in the world at what they do.
Jordan's success inspired Nike to release the ever popular range of 'Air Jordan' trainers and even a Looney Tunes spinoff featuring Bugs Bunny known as 'Hare Jordans'. So, of course, if you have a successful line of Looney Tunes trainers the next logical step is to release a movie starring both Bugs Bunny and Michael Jordan, in a story where they fight off an alien invasion through their skills on the basketball court.
Hey, don't blame me; I didn't come up with the idea. To be fare, the film's trailer does its best to sell the idea:
'Space Jam' is the one and only acting credit to Jordan's name. However, somehow, the film managed to be a hit! Grossing over $230 million worldwide, Space Jam became the most successful basketball film of all time; take that 'Coach Carter'. The film also managed to gain some critical praise. Film critics Siskel and Ebert each gave the film their thumbs up, and the film was nominated and won several Annie and Grammy Awards.
So, with so much success, why is Michael Jordan on our list?
Well, despite Bugs Bunny and even Bill Murray doing their best to help him out, Michael Jordan is not exactly leading man material and the film demonstrates this very well.
Whether it was his lack of any acting training or experience, or maybe he was preoccupied by trash talking the extras, yeah that actually happened, Jordan never looks comfortable in the role. Jordan's lack of any follow up TV or film appearances shows his dissatisfaction with the medium and by walking away before pushing his luck shows the guy has enough smarts and credibility to only be featured at number 5 on our list.
And since I went and mentioned Bill Murray earlier, here's a wee clip of him in action:
Number 4: Vinnie Jones
Unlike the rest of the athletes on our list, Jones' decision to make the switch from sport to acting was not informed by an overtly successful sporting career. During his 15 year football career, Jones played for 7 different teams, during which he lead Wimbledon to win the 1988 FA Cup. However, whilst other athletes on our list, like Michael Jordan, had skills and accomplishments that have yet to be surpassed by their peers, Jones found a different niche.
Jones' rise to fame, or perhaps infamy, came about from bullying his opponents. Jones was sent off 12 times during his career and currently holds the record for earning the fastest ever booking in a football match, getting booked just 3 seconds into a game against Sheffield United. Clearly it doesn't take much to set him off:
Jones' intimidation tactics were legendary, one time even being photographed grabbing an opponent's testicles mid-game. I refuse to sully this blogs good name by splicing in a photo of this incident, if you want to see it, go 'Yahoo it'.
Jones managed to parlay his new found fame into a fairly decent film career. His real life 'hard man' image helped him to bring his tough guy roles a certain legitimacy missing from most action stars. That along with a very timely resurgence in the British film industry gave Jones an outlet from which to share his particular brand of
Owing a lot to director Guy Ritchie and fellow actor Jason Statham, Jones film career started strong with cameo appearances in hit films like Lock, Stock and Two Smoking Barrels, Snatch, Gone in Sixty Seconds and Swordfish. However, once movie audiences moved on from their fascination with London's East end mobsters, Jones was left with starring roles in rubbish straight to DVD releases with brash titles like Throwdown, Hard Rush, Gutshot and The Bleeding. The Vinnie Jones cinematic universe has no time for subtext.
Every film of value on Jones' resume was released from 1998 to 2001. Jones' 3 years on top were filled with one note performances where he played characters who were mutes, psychos, or mute psychos. But we also must give him points for being at least a little self aware. His cameo in the hit show Extras, playing a fictional version of himself, showcased his funny side:
Throughout his acting career, Jones did what he could with the roles he was given but his complete lack of diversity in performances, coupled with the decade of dross that he has produced ever since more than earns Vinnie Jones a prime spot on our list of the worst athletes turned actors.
Number 3: Hulk Hogan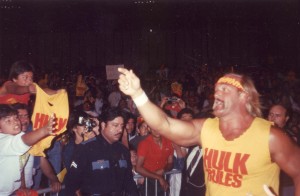 Known as 'the Babe Ruth' of wrestling, Hulk Hogan stood atop the world of professional wrestling for more than a decade. Bringing what was once categorised as a 'sudo-sport', whatever that means, out from the dingy school gymnasiums and into super bowl sized stadiums Hogan popularised pro wrestling for a generation, and is still a big name today. This year's 'Wrestlemania' event featured Hogan selling out Levi's Stadium with over 70,000 'Hulkamaniacs'.
It is arguable that 'the Hulkster' had a better chance of succeeding at making the jump to acting than any of the athletes on our list, I mean what is professional wrestling if not just live theatre? At the height of his popularity tens of thousands of 'Hulkamaniacs' would pack stadiums to see Hogan do his best impression of a professional fighter, so it made sense for Hogan to switch to acting full time. Whilst it may have been logical, this career shift did not make for good quality films.
Hogan's film and television career includes such noteworthy 'classics' as Mr Nanny, Thunder in Paradise, 3 Ninjas: High Noon at Mega Mountain, The Ultimate Weapon and who could forget Santa with Muscles. With a career spanning almost three decades, Hogan has the longest film resume of any athlete featured on our list, and if the rumours are true, his acting career could be about to peak with a starring role in the next Expendables film.
So how can Hogan only claim the number 3 spot on our list? Surely with so many downright stinkers on his resume he has to be considered the very worst? Well, actually no. Perhaps it's just nostalgia talking, but Hogan's complete inability to act paired with his undeniable charisma makes for great train wreck theatre.
His films are terrible but you just can't look away. Seeing this 7 foot giant try to play 'everyman' roles is just hilarious, his 'I can solve any problem by lifting it over my head' philosophy on life is adorable, and his determination to work in his own catchphrases into films that should have no relation to his wrestling persona is impressive.
The film critic in me wants to forget films like 'Santa with Muscles' every existed, but I have to admit, the movie fan in me is glad that they do. I feel assured in the knowledge that if I ever fancy seeing a film about a bodybuilding, bounty hunting, alien for hire trying to live in suburban Chicago I can, thanks to Hulk Hogan, and there really is no better way to spend your hung-over New Years Day than with a bit of 'Suburban Commando', yes that's the film's actual title.
Hogan's acting talents may not be good enough to escape our list, but for pure entertainment value I highly recommend a viewing of Thunder in Paradise.
So 'whatcha gonna do brother, when the some of the worst films in recent memory, run wild on you?!!!!!!'
Number 2: Bruce Jenner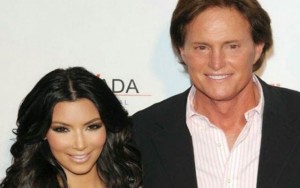 Olympic decathletes are traditionally known as the 'world's greatest athletes', and for good reason too. No other athlete competes in more events in such a short time frame, and to win Olympic gold in the event is a remarkable achievement.
Bruce Jenner accomplished this feat at the 1976 Olympic Games in Montreal. Setting a new world record in points earned, and beating all personal bests on his first day of the event, Jenner won Olympic gold in style. His achievements went o to earn him inductions into both the Bay Area Sports Hall of Fame and the National Track and Field Hall of Fame.
Jenner's first foray into acting came in the 1980 Village People biopic 'Can't Stop the music'. You know a film is bad when it inspires a whole new award to be made in its honour. The film was the first recipient of the Golden Raspberry Award for Worst Picture. Jenner's performance also earned him a nomination in the worst actor category, but lost out to Neil Diamond's performance in 'The Jazz Singer'.
To be nominated for the first ever 'Worst Actor Razzie' for your acting debut is not great to say the least. Most people would have taken the hint and quit, but not our Bruce. No, instead Bruce continued to cash in on his celebrity status with celebrity cameos and acting in such nightmarish cinema classics as the Adam Sandler 'comedy' Jack and Jill, a film so bad it has a rating of just 3% on rotten tomatoes.
Jenner's biggest on-screen success has been in the world of TV, being a regular guest on the hit show 'Keeping up with the Kardashians'. Bruce's eccentric personal life, coupled with his recent transgender issues and frequent cross dressing escapades has made him a perfect fit for the world of reality TV. Jenner is a one-of-a-kind human being, regularly attracting over a million viewers each and every week to catch a glimpse of his outlandish personal life.
There is no debating Jenner's athletic credentials. To be considered the world's greatest athlete is a huge accomplishment and to retire on top is something that we all aspire to do. However, there is also no denying that Bruce's new career was a bit less successful for him. Jenner went from earning an Olympic Gold Medal to earning a Razzie nomination for worst actor. No other athlete on our list has fallen so far and so fast. However, by embracing the absurdity of his life, Jenner has found a whole new level of fame as a reality TV star. Therefore, for pure grit and determination to succeed, Jenner manages to escape the top spot of our worst athletes turned actors.
Jenner may have won Olympic Gold, but in the world of athletes turned actors he is sadly a silver medallist at best. So who could be worthy of gold? Keep reading to find out.
Number 1: Shaq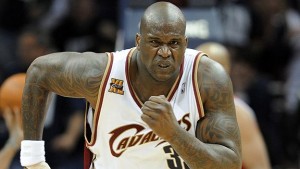 Shaquille Rashaun O'Neil is the poster boy for successful athletes turned terrible actors.
However, looking at this guy's sports trophy cabinet must be like staring into the heart of the sun. During his illustrious 19 year NBA career, Shaq managed to stack up:
4 NBA Championships
3 Finals MVP awards
2 scoring titles.
He is also one of only 3 players ever to win the NBA MVP, All Star Game MVP and the Finals MVP awards in the same year.
So yeah, he was pretty good. But, like so many others on this list, Shaq decided that acting would be a natural progression of his athletic career. Who is it that keeps advising athletes to do this? Somewhere in Hollywood there is an acting agent with about a hundred Razzie Awards on his desk who keeps reassuring himself that his genius is simply 'before his time'.
Unlike many athletes on this list, Shaq's acting career kicked off early in his career. His first breaks coming in the box office disasters 'Blue Chips' and 'Kazaam' in 1994 and '95, the latter starring Shaq as a 5,000 year old genie. Don't believe me? Check out Shaq's incredible introduction to the acting world below:
Perhaps the most infamous of Shaq's acting portfolio has to be his portrayal of John Henry Irons in the film 'Steel'. 'Steel' will be well known to comic book fans as a member of DC's Justice League, and temporary replacement for Superman.
The film was released in 1997, too late to enjoy a similar success as the late 1980's Batman films and a few years too early to be counted as part of the superhero movie renaissance we are currently enjoying. This 'uncanny valley' era of superhero film junk also included George Clooney's Batman complete with 'Bat credit card' and armour clad with 'Bat-nipples'.
Like many superhero film of its time, 'Steel' was panned by critics and was a box office disaster. Shaq earned a Razzie Award nomination for his portrayal of the titular hero and the film only made back $1.7 million of its $16 million budget. It currently has a rating of 12% on Rotten Tomatoes.
You've got to love Shaq though. He has no business acting in films or TV, and yet he keeps on going. With fairly successful cameos in hit shows like Curb Your Enthusiasm, along with promoting his own line of video games, Shaq is an incredible guy that clearly doesn't take himself too seriously.
Therefore, it is my honour to declare Shaquille Rashaun O'Neil as the worst actor to ever make the jump from competitive sports, if only because I'm sure his ego can take the hit. Well done Shaq, you're our gold medallist.
Conclusion
So there you have it folks, the 5 worst athletes turned actors. Gold medals all round to those of you who managed to wade through such cinema atrocities as Mr. Nanny, Steel and The Bleeding and still have a shred of hope left for humanity. I know I certainly don't.
But then again that could have less to do with Hulk Hogan's film back catalogue and more to do with that time I visited a Burger King to be told they had no burgers left. That day my innocence died.
Anyway…
If you enjoyed this post, check out our other posts on the world of film (that may or may not include your favourite sports personalities, you have to find that out for yourself) over at Film Trekker.