Who has made the Best Transfer Deadline Day Deals?
Spend It Like Beckham take a look a some of the more successful transfer deadline day deals to take place over the years. Taking into consideration things such as goals, titles, trophies, resell value and all round effectiveness, here are our Top 10:
10. James Milner
Aston Villa from Newcastle – Loan
When James Milner broke into the first team at Leeds, he was boy wonder – the next big thing! Newcastle saw this undoubted talent and made the move for the young man, however, it didn't really work out all that well for him at the Toon. Enter David O'Leary and Aston Villa. The Bimingham club took Milner on loan during the 2005/06 where he thoroughly impressed over the season, leading Villa to chase him on a permanent transfer. The move didn't materialise at the end of that season though, but it started the wheels moving on a eventual £12m transfer a couple of seasons later.
Milner was already a fans favourite from his time, and he grew this reputation further during his second spell in the Midlands. His time at Villa left an impression on more than the Villa fans, with newly oil-rich Manchester City coming calling for the talented Englishman and splashed out a then record fee for a Brit of £28m to get their man.
Not only was Milner impressive on the field for Villa, he also helped beef up their bank balance. Still at Man City, Milner has only recently became a first team regular. With a reputation of being 'boring' he is a model professional who has managed to force his way into a team full of international superstars.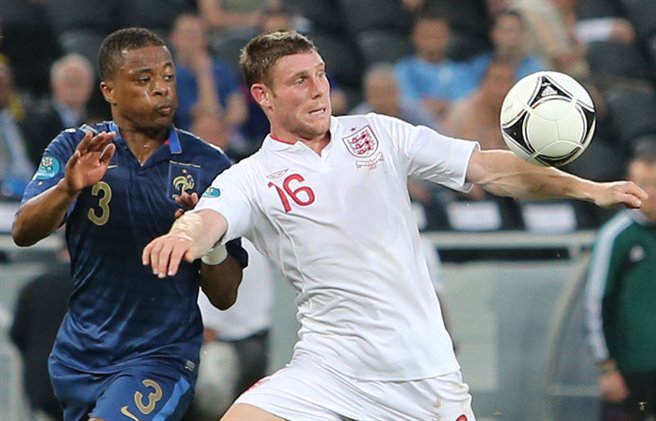 "I wonder what I'll have for tea. Boiled potatoes? Brussel sprouts? Something boring."
9. Glen Johnson
Portsmouth from Chelsea – £4m
The young right back was another who impressed at his first club, West Ham, and enticed an oil-rich club to spend big on him. But, much like many of these transfers, Johnsons time at Chelsea wasn't his most glorified period. Not getting much game time at the Bridge, he was farmed out on loan to Portsmouth where he had a very productive season.
This prompted boss Harry Redknapp to make the move permanent, and on transfer deadline day 2007, the south coast club snapped up Johnson for a bargain £4m. He arguably played his best football while at Fratton Park, where he became an England regular and eventually won a big money (£18m) move to Liverpool down the line.
He is still at Liverpool, but his more recent performances have been questionable. Though, this does not stop Glen from trying his best each and every game. Another who moved to a bigger club and simultaneously increase the club he he was leavings coffers.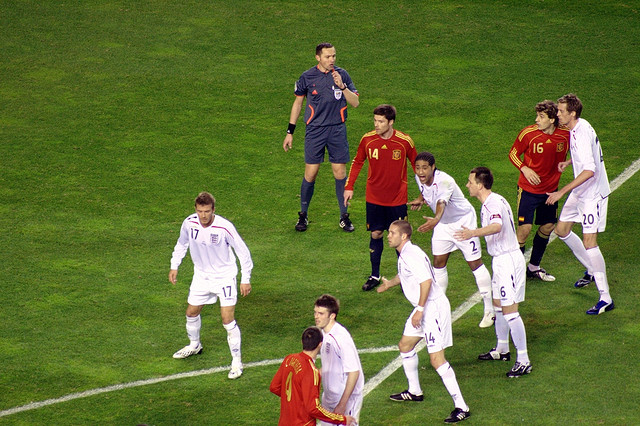 "Gaffer! Gaffer! Someone has let Matthew Upson in the England team!! Help!"
8. Danny Murphy
Tottenham to Fulham – Loan
In what is becoming a pattern, Danny Murphy was another who moved to a bigger club (Charlton to Tottenham) to only be used sparingly, despite being an integral cog at his previous, and like the others, was shipped out on loan to a club lower down the table. Murphy's destination was Fulham FC where he went on to become a club legend.
He was always known for his versatility and work rate, and manager at the time Lawrie Sanchez recognised that his Fulham side were lacking such a player.
After making the initial loan move permanent, Murphy spent 5 years at Craven Cottage and eventually became club captain – the only captain to lead them to a European Cup Final, which is rather impressive for a Spurs reject.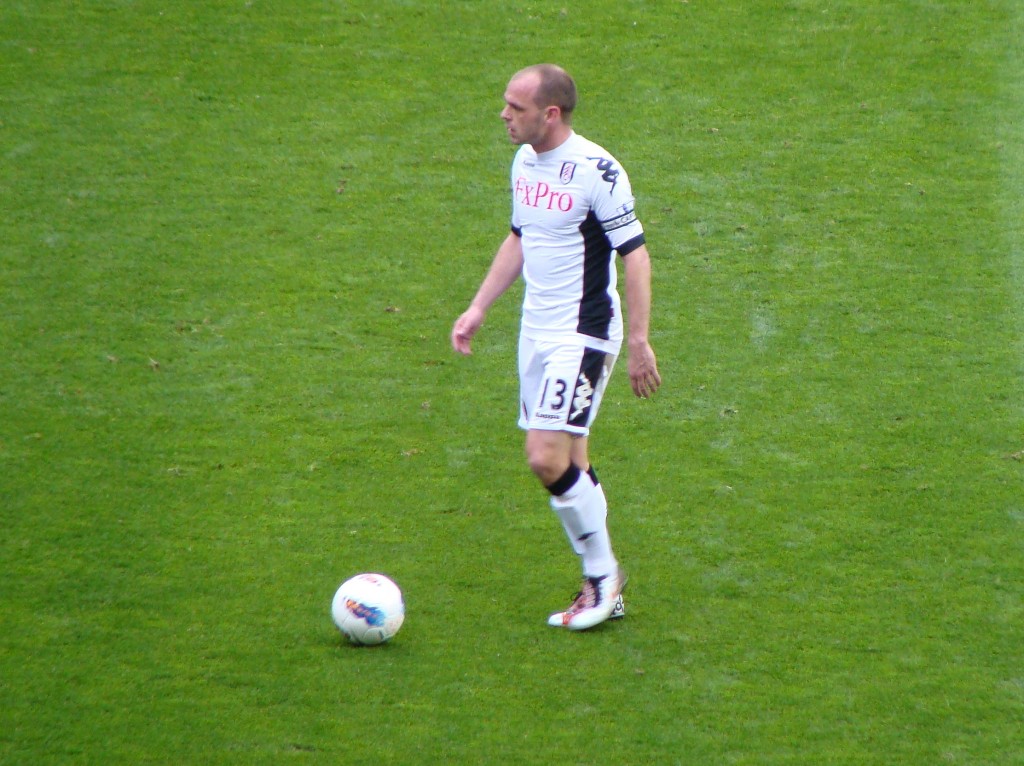 "How many European Finals have you reach Spurs??"
7. Carlos Tevez and Javier Mascherano
West Ham from Corinthians – Free
A doubler! We liked this move, as it was the first of its kind in the Premier League (that we know of!) The introduction of third party ownership came to light when West Ham, a team who were tipped to be fighting off relegation that season, signed two of the hottest prospects of Argentinian football.
Super agent Kia Joorabchian was the mastermind behind the deal, with him seeing West Ham as a platform for the players, whom he technically owned, to make the step up to a bigger club. And that they did. Mascherano left for Liverpool just 6 months later, and Tevez leaving at the end of the season for Manchester United. This wasn't before both players played integral parts in West Hams survival that season, with Tevez scoring the goal that literally kept them in the top flight.
While West Ham never owned the players, they reportedly still made out very well following the multimillion pound moves that the club helped the players earn.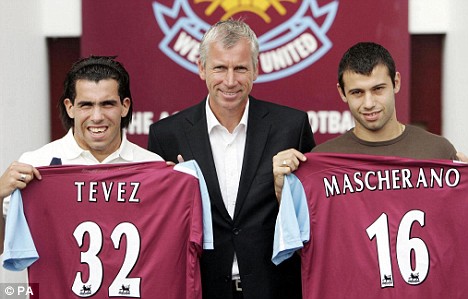 "Javier! Who are we signing for?" "I don't know, just smile!"
6. Christian Benteke
Aston Villa from Genk – £6m
Paul Lambert got a lot of stick for spending what was considered a lot of money by Villa's fans, on an unknown Belgian. Oh, how they changed their tunes.
The big Belgian turned out to be a coup for the Birmingham club, and he scored a whopping 23 goals in his debut season for the club.
This of course led to interest form other clubs, and even a transfer request at one point, but the Belgian repayed the faith shown by the club and signed a new long term deal. He has since struggled with injuries and form, but you will have to go a long way to find someone who would consider Christian Benteke a bad signing.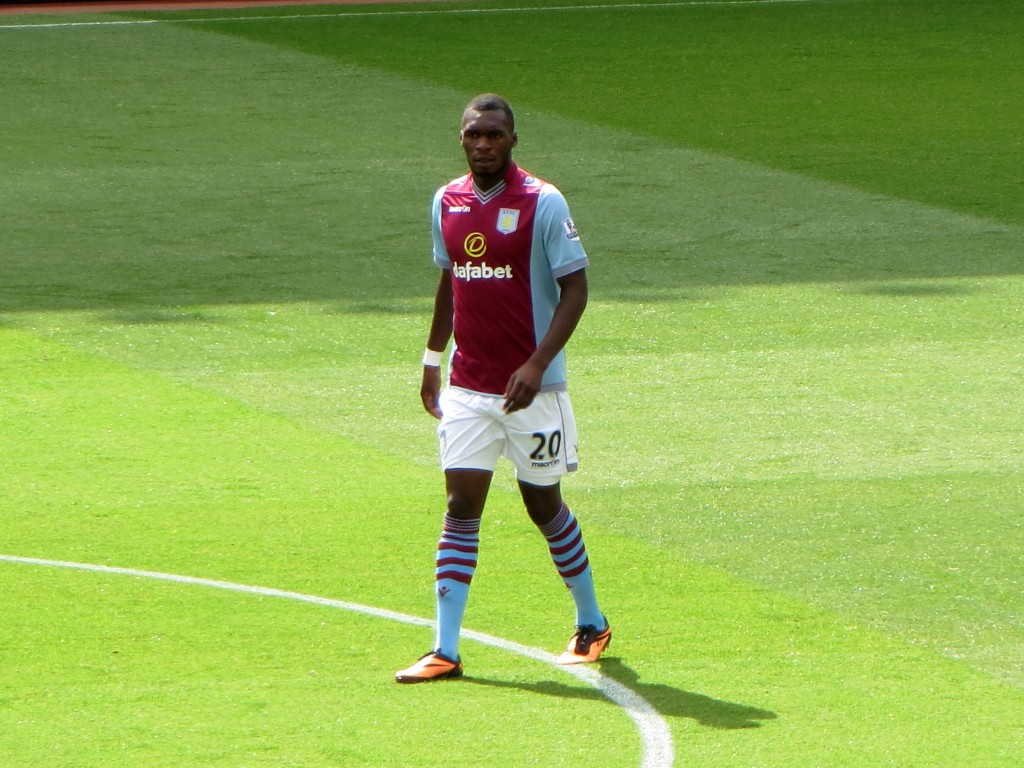 He scored more goals by himself in one season than Villa have this entire season…
5. Mikel Arteta
Arsenal from Everton – £10m
The Spaniard was always an effective player in the Premiership, and had long time been linked with a move to a bigger club from Everton. It wasn't until Arsenal had lost Cesc Fabregas and Samir Nasri that Wenger decided to finally make a move for the midfielder.
The most impressive part of Artetas move from Everton was how he had to adjust his game to fit into the Arsenal lineup. He was a more creative and attacking presence at Goodison, while Wenger wanted him to be deployed as a sitting midfielder that mopped up anything that came his way – and mop up he did.
Arteta has since became club captain at Arsenal, and while he has never been the most glamorous of players, he has always been an effective one for the club.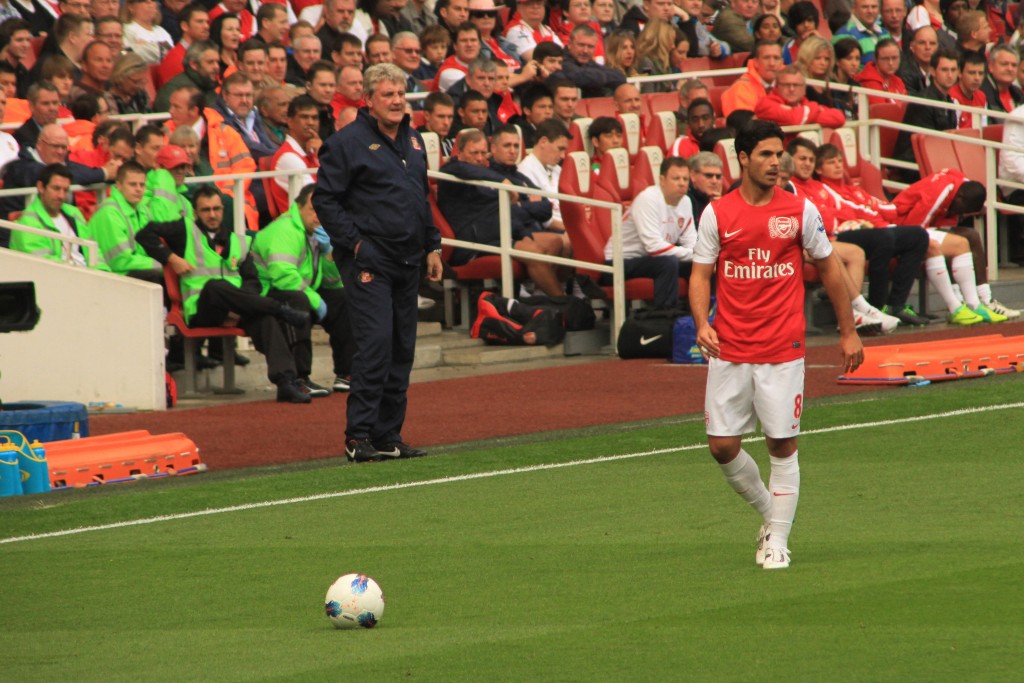 "Guys, is he still staring at me? I can feel it!"
4. Claude Makelele
Chelsea from Real Madrid – £16m
Real Madrid have always had the transfer philosophy of signing flashy, tricky players that posessed flair and guile – not these work-happy type players, who are industrial and grafters? "What, we have the best of this type of player in the world? Dispose of him immediatley!" That is how I imagine the Real Madrid boardroom conversation went the day Makelele was sold to Chelsea for an absoulte bargain at £16m.
His experience alone was near untouchable, and he wsa near enough untouchable on the field proving to be one of the most effective players of all time in this role, and one of Chelsea's most consistent performers for years to come.
Makelele spent 5 years at Stamford Bridge, winning 2 Premier Leagues, 2 League Cups and 1 FA Cup.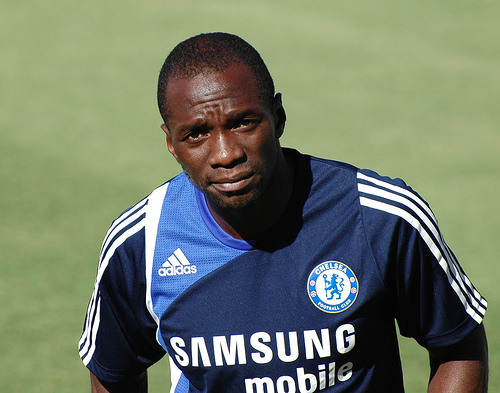 "I am Claude. I make sexy football."
3. Marouane Fellaini
Everton from Standard – £15m
Fellaini came to Everton with a big reputation, he was hailed as the next big thing in Belgian football and had turned down the advances of Manchester United, Real Madrid and Bayern Munich in order to play regular first team football in the Premier League with Everton – a move that many young up-and-comers would be unlikely to agree to, seeing their name in the headlines at the other massive institutions.
However, Fellaini went with the choice that was right for his career, and his career and all round grew massively during the five years he spent at Goodison Park. While he never won any trophies with Everton, his ability and potential caught the eye of many a suitor, including a re-interested Manchester Unite who would eventually shell out £27.5m for the big Belgian.
He has only recently began to rediscover his Everton form with Manchester united after enduring a rocky start, but it's likely that someone with his footballing ability will stay rocky for much longer.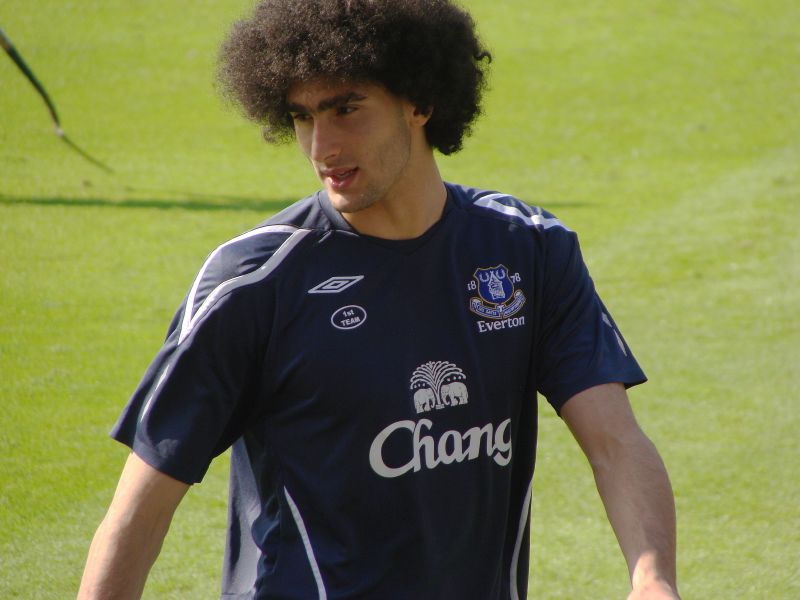 "Claude Makelele is so dreamy…"
2. Luis Suarez
Liverpool from Ajax – £22m
Suarez was signed to replace the departing Fernando Torres who was leaving for Chelsea, and replace him he did, with Suarez scoring more goals than El Nino over a nearly identical amount of time at Anfield.
He became a cult icon to the Liverpool supporters, with his goals, and sometimes his antics, catching the eye of both them and football fans around the world. Yes, he was a bit mad with his biting and what not, but his footballing brain and ability was unquestionable.
He would eventually leave Liverpool for the alluring Barcelona for a massive £61m in 2014. His goals helped Liverpool on so many occasions, and the money gained from his transfer won't fall short in helping out the team.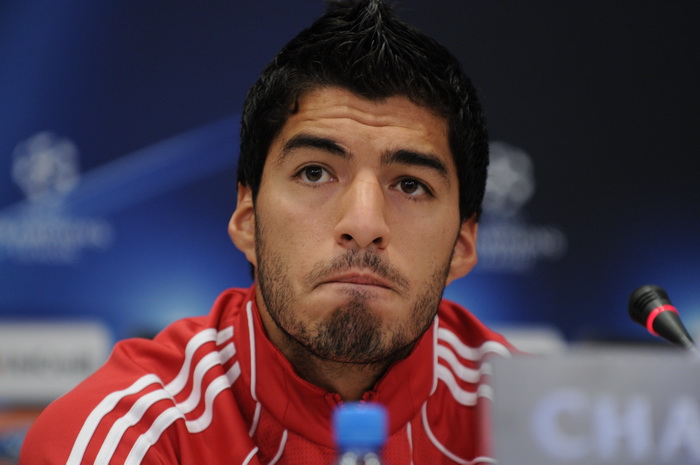 "I wonder what James Milner is having for dinner…"
1. Wayne Rooney
Manchester United from Everton £26m
Wayne Rooney arrived in the Premier League with a bang, scoring the goal that finally defeated Arsenal's 'Invincibles' He was already Everton's youngest ever goalscorer, but this goal made him the youngest ever to score in the Premier League. he continued to impress and it wouldn't be long before the big boys came calling for the teenage sensation.
Manchester United snapped up the youngster for a then world record fee for a teenager of £26m. They obviously saw a lot of potential in the scouser and put a lot of faith into his massive transfer fee. Unlike many before him, his large fee and young age did not put Rooney off one bit, scoring a hat-trick on his United debut, in the Champions League no less.
Fast forward 10 years, 461 games, 224 goals (including THAT goal against Manchester City) and 118 assists, Rooney has picked up 5 Premier League medals, 2 League Cups, 3 Charity Shields, 1 Champions League and 1 Club World Cup. Oh, and this is on top of becoming captain of both his club and country. Say what you want about the man, but £26m seems like a bargain when it is all laid out like that.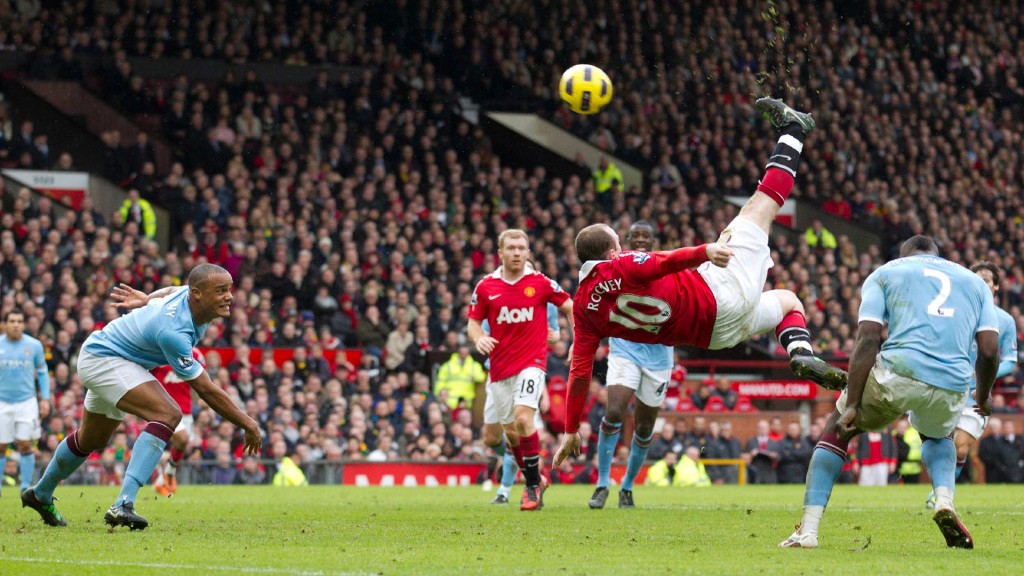 'Nuff said.