We could all do with a little extra money. I always could, especially when I was at Uni. Through recommendations and a bit of research on my own part, I found a few simple ways to make some extra cash online in my spare time. And I still use them today. Here are 5 ways that I highly recommend to you.
1. Fiverr
If you're a regular reader of SILB, then you'll probably know that from my infographics that I dabble in graphic design and illustration. My friend recommended Fiverr to me, and I am so glad that he did. Fiverr is a site where you can sell your skills and services online, and get paid $5 each time. The best thing is, in my case anyways, they were always small, quick jobs that took literally minutes. A logo, a colour change. Small simple things, but things that made me some money. It's not just limited to graphic work either. There is a mass array of people offering anything you can imagine for $5 a time: Video Adverts; Short Articles; Caricatures; Voice Overs; Video Editing, anything you can think of really. There is even a guy that offers to 'Sing You a Depressing Happy Birthday Song as a Mouse" I am not kidding, click the link and see for yourself. As strange as it is, it should go to convince you that there are nearly no limits to what you can offer in Fiverr. And who knows, if you do a good enough job for the right person, it might lead to some further work with the possibility of more money in your pocket. Depressing mouse man has had 214 customers for this service, that's $1070 he's been paid for doing this. Money is there to be made, regardless of your service.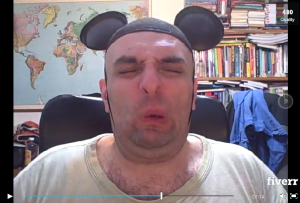 He's had 100% positive feedback from all 214 customers…
Image taken from Fiverr.com  
2. Quidco
You've probably heard of a lot of these 'shop and earn' sites, but this one (and the next one) actually works. Quidco is a site where you can sign up to shop. If you shop through them, they earn a commission, and they pass some of this commission back to you. It's as straightforward as that. They have literally thousands of affiliated clients, so they chances of one of or many of your favourite online retailers being there are pretty high. You can either shop by retailer or just search for an item, and Quidco will let you know if any of their retailers have the item in stock or on offer. You buy through this, and you earn cashback in your account. It really is as simple as that, and this is probable why nearly 4 million people in Britain are using the site on a daily basis. You can sign up for Quidco free here.
Those guys are actually the founders of Quidco
3. Qmee
Qmee is another cash reward site, but this one is  a little bit, let's say, easier. Qmee is actually a browser plugin that requires you to do (apart from install it) absolutely nothing. The way it works is, if you're just casually browsing the internet or doing a bit of online shopping and the particular item or service you are searching for has a matching Qmee listing, a sidebar will appear letting you know about the deal. If Qmee doesn't have something to offer you in terms of cashback etc for your search, then it won't bother you, which is pretty cool as a lot of online tools and sidebars can get quite annoying if exposed to them constantly. Qmee also has another feature that other cash reward sites don't, it gives you the option of donating your earned cashback. Instead of transferring your accumulated cashback to your account, you can choose to donate the money to a charity online. It is completely optional, but it is a good feature in case you ever feel generous.
" Rewarding Search"
4. Swagbucks
Swagbucks is a site and app that is still in the same vein as the previous two listings, in the fact that you earn rewards, but it does it a little differently. Swagbucks isn't just a shopping platform, it's a lot more. You can earn rewards by: Shopping, Searching, Watching, Playing, Answering and Discovering. Those are the terms that Swagbucks use, and they are pretty spot on. You can earn rewards by shopping (which is the obvious one); Searching through Swagbucks custom search engine that delivers specific results that earn you rewards; Playing: where you play certain flash games, you get rewards; Answering: where you complete special Swagbucks Surveys; and Discovering: which is essentially browsing the offers featured on the Swagbucks site or app. Another difference of Swagbucks is that they don't pay out cash, you accumulate points and these can be exchanged for discounts or vouchers for a lot of major retailers like Amazon for example. You can sign up for Swagbucks independently or through your Facebook
5. Textbroker
Textbroker is a site for the writers out there, whether a professional writer or a hobbyist. Textbroker allows you to search for writing jobs online, sometimes they are big, sometimes they are small. The important thing is, you get paid for your work. The way it works is that you'll send a sample of your work to Texbroker and they will review it for quality and give you a rating. This rating will then allow you to select an assignment from their large selection of projects. Their customers vary from small business owners to large institutions, so there is some good work on there. They also offer a direct service. This will be if a client of theirs likes something you've written for them, they can then request you for more jobs, so the  opportunity to make some real money from writing is very much a real thing with Textbroker.
 Get paid for your writing
Know any other sites or apps that you can use to make some extra cash? Let us know in the comments below!